nomenclature:
We were looking for a name that would be unmistakably Indian and thoroughly unique. We considered borrowing a raaga name from either Carnatic or Hindusthani music but quickly decided against it as we did not want to give the impression of being a classical band.
Then we started looking for words in Sanskrit. This is when we stumbled upon the word " Chitha Vikshepa", which means "distraction". Breaking it up, "Chitha" means "the mind" and "Vikshepa" is something akin to "obfuscation". Since everything about us at that juncture, from our plans to our mindset, was fuzzy, we decided that "Vikshepa" fitted the bill perfectly when it came to naming ourselves.

history:
Pramodh and I, Vinod were classmates during our engineering days. In 1997, we started getting together a small group of musicians to represent our college in inter-collegiate cultural events. In 1998, a tremendously talented keyboardist, Shadrach Solomon joined us and we immediately started tasting success. However, it was around December 1998, when AravindPrasad joined us and other talented college mates as our drummer, that we really began to blossom. We had a golden period of over two years when we won many accolades all over South India. A little while after Aravind, Keerthi came into the fray as our tablist and the party was complete.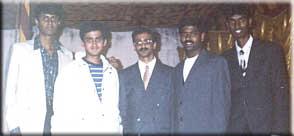 L - R: pramodh keerthi vinod solomon aravind
By the end of '98 itself, we had started receiving commercial offers to perform at social gatherings, hotels and fashion shows. After having done that for a while, we developed a burning desire to cut our own record. We started off by composing Tamil songs but somewhere down the line, we switched over to Hindi in an attempt to target a larger audience. Many hours of diligence amidst tight scholastic schedules resulted in " SOULS IN TRANCE".